05. Never Too Cool To Learn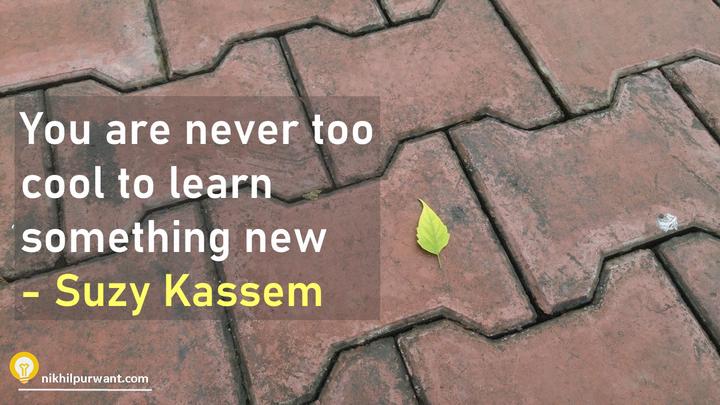 One of the advantages of following famous people or celebrities on social media is to actually find, even them getting amused by some new piece of information.
We all know that knowledge is never wasted. In some shape of form it can be useful. Sometimes even years after you were first exposed to it. Most well informed people I find around me are always keen to learn something new. They are always curious and ask questions. I have found them to be very sincere and humble in their quest for learning.
The definition of cool however varies and is very personal. Depending upon what impresses you "cool" can be anything from being the top level athlete to a bad ass rapper.
One such cool person I know is my school friend Surendra. In 2012 he climbed Mount Everest. We recently caught up and what impressed me most was was his humility and the way he would write these short stories about his different climbs across the world. His writing absolutely transports the reader to the mountains.
I asked him if he maintained a blog and told him that the world really needs his words. He said no but showed interest in learning and starting a new one. And thankfully he did learn how to do that and now has a blog, which is an avenue for others to experience at least some of the joy he gets out of climbing the peaks around the world.
He was enthusiastic to learn a relatively simple thing of how to start a blog and in the process reinstated my faith in the cool people.
This quote is attributed to Suzy Kassem. Who is an American writer, poet and philosopher. She is also attributed with legendary quotes like following
Doubt kills more dreams than failure ever will.
Which I am sure I will talk about in another blog. But let's get back to what we were talking earlier
You don't have to learn a skill everyday but just being curious about your surrounding can add so much depth to your knowledge. And that brings me to the picture behind the quote.
These are the interlocking pavement blocks from common areas in my apartment complex. I am sure many of you have seen them in many different shapes and colors. But did you know that they are
More environment friendly than any other surfaces like concrete flooring. By allowing water to sip through thereby not interfering with the ground water replenishment cycle
Require less maintenance
If powerwashed once a ear far safer than many other surfaces to walk on - especially in rainy seasons
They are quite fascinating but I'll stop here about them.
I am sure you have learnt a lot more about these blocks than you knew before and next time whenever you come across them you will be able to strike a conversation about them with your spouse or kids or even with an environmental activist!
It is true then, isn't it ?
you are never too cool to learn something new.
Thanks for reading through - And as always - Let me know of my mistakes - I am always learning.
-Nikhil
P.S.
Surendra's Blog (Marathi) - Trek With Surendra